We are working with The Burberry Foundation – an independent charity founded in 2008 – on a series of programmes to tackle educational inequality and support social and economic development.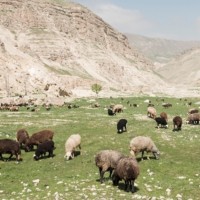 Better Cashmere
Afghanistan is the world's third-largest producer of cashmere fibre, despite ongoing conflict and poverty in the region. In partnership with Oxfam and PUR Projet, The Burberry Foundation is implementing a long-term programme focused on developing a more inclusive and sustainable cashmere industry and supporting the social and economic empowerment of rural communities in the region. So far, over 47,000 community members have benefited from the programme.
Burberry Inspire
Burberry Inspire brings together underrepresented youth, renowned arts institutions and research teams to measure the impact immersion in arts has on young people. More than 5,000 young people in Yorkshire and New York have benefitted from experiences of the creative arts through the programme, which has enabled researchers from King's College London and City University of New York to examine how cultural and creative education can help young people overcome challenging circumstances.